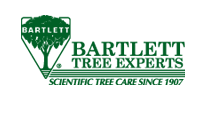 Wood Acres Tree Specialists is proud to be a division of Bartlett Tree Experts, and our staff now has the backing of an international tree-care company and tree research laboratory to help continue providing excellent tree service and shrub care in the Washington D.C. area. View a complete list of professional tree services offered by Bartlett.
| | | |
| --- | --- | --- |
| 1 Metropolitan Court, Gaithersburg, MD 20878 | | |
Tree & shrub care services

General Tree Work:

Plant Health Care:

Vertical Mulching

Root damage is one of the leading causes of tree death.

Soil compaction is very harmful to the root system of a tree because it reduces the amount of space in the soil that would normally be filled with oxygen and water. Vertical mulching may be recommended because it cuts through the soil providing a well aerated area around the roots. This aerated area then allows the penetration of water and oxygen into the soil thereby strengthening the roots of the tree. A power drill or an air spade is used to drill holes approximately 2 inches in diameter and 12 inches deep in a grid pattern beneath the canopy of the tree. The holes are then filled with a compost mixture. Vertical mulching reduces stress and strengthens the root system of the tree.

Contact your Wood Acres arborist to learn more about this service.

Pro-active tree & shrub care

Tree & Shrub Care info

Affiliations

Maryland Arborist
Association

Tree Care Industry
Association


International Society
of Arboriculture
Master Arboist
On Staff
Copyright © 2010-2018 Wood Acres Tree Specialists - All Rights Reserved