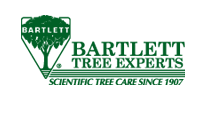 Wood Acres Tree Specialists is proud to be a division of Bartlett Tree Experts, and our staff now has the backing of an international tree-care company and tree research laboratory to help continue providing excellent tree service and shrub care in the Washington D.C. area. View a complete list of professional tree services offered by Bartlett.
| | | |
| --- | --- | --- |
| 1 Metropolitan Court, Gaithersburg, MD 20878 | | |

Tree & shrub care services

General Tree Work:

Plant Health Care:

Root Collar Correction

Root damage is one of the leading causes of tree death.

Trees are commonly planted too deep or have excess soil or mulch covering the root flares resulting in decline, girdling root formation, root rot and even tree death. Rope or twine left around the roots when planted is another common cause of girdling root formation. Girdled roots grow around the main stem of the tree and cut off or restrict the movement of water, plant nutrients and stored food reserves. Wood Acres Tree Specialists can perform root collar correction to give your tree an optimally healthy root system.

Root Collar Correction is the process of removing excess soil from the top of root flares and around the trunks of trees. During this process, our Plant Health Care Specialists use an air spade to blow excess soil from around the root collar. With the root collar exposed the structure of the root system is evaluated to determine the appropriate corrective measures needed to enhance root development or repair damage to the tree trunk itself. Once diagnosed, these problems are manually corrected to create the right environment for the tree to flourish.




Pro-active tree & shrub care

Tree & Shrub Care info

Affiliations

Maryland Arborist
Association

Tree Care Industry
Association


International Society
of Arboriculture
Master Arboist
On Staff
Copyright © 2010-2018 Wood Acres Tree Specialists - All Rights Reserved