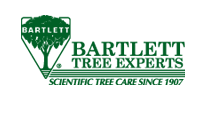 Wood Acres Tree Specialists is proud to be a division of Bartlett Tree Experts, and our staff now has the backing of an international tree-care company and tree research laboratory to help continue providing excellent tree service and shrub care in the Washington D.C. area. View a complete list of professional tree services offered by Bartlett.
| | | |
| --- | --- | --- |
| 1 Metropolitan Court, Gaithersburg, MD 20878 | | |
Tree & shrub care services

General Tree Work:

Plant Health Care:

What is Winter Injury?

Winter injury is common on broad-leaved evergreens such as rhododendrons, laurels, hollies, pines, spruces and firs. Symptoms include browning on the outer leaf margin, brown needles, and brittle twigs.

Evergreen plants are constantly transpiring (losing moisture through the stomates in the leaf) throughout the year. In winter it is hard for a plant to replace moisture loss since the water in the ground is frozen. As a result tissue damage occurs. This condition is made worse when winds and sunny days increase the moisture loss.

Ornamentals can be prepared for this by watering late into the fall and applying anti-desiccant treatments to the foliage.

Pro-active tree & shrub care

Tree & Shrub Care info

Affiliations

Maryland Arborist
Association

Tree Care Industry
Association


International Society
of Arboriculture
Master Arboist
On Staff
Copyright © 2010-2018 Wood Acres Tree Specialists - All Rights Reserved