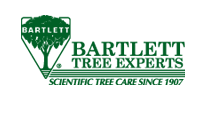 Wood Acres Tree Specialists is proud to be a division of Bartlett Tree Experts, and our staff now has the backing of an international tree-care company and tree research laboratory to help continue providing excellent tree service and shrub care in the Washington D.C. area. View a complete list of professional tree services offered by Bartlett.
| | | |
| --- | --- | --- |
| 1 Metropolitan Court, Gaithersburg, MD 20878 | | |
Tree & shrub care services

General Tree Work:

Plant Health Care:

Can a tree inspection or pruning be done in winter?

With the leaves out of the trees it is much easier to see structural problems. Cracks, fungi, crossing, rubbing and even dead branches are easily spotted from the ground. Not only can you see the structure of the trees and what may be hazardous, but winter is a good season to have these hazards removed.

The cold weather helps keep wood destroying fungi and bacteria to a minimum, and for the most part, insects that feed on trees are in their over-wintering stages. Without the high number of wood destroying agents these winter months give the trees time to heal or compartmentalize the wounds which are left behind from a cut branch. This short window without the wood decaying agents is valuable time for the trees to get a jump start on the following growing season.

Pro-active tree & shrub care

Tree & Shrub Care info

Affiliations

Maryland Arborist
Association

Tree Care Industry
Association


International Society
of Arboriculture
Master Arboist
On Staff
Copyright © 2010-2018 Wood Acres Tree Specialists - All Rights Reserved