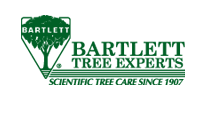 Wood Acres Tree Specialists is proud to be a division of Bartlett Tree Experts, and our staff now has the backing of an international tree-care company and tree research laboratory to help continue providing excellent tree service and shrub care in the Washington D.C. area. View a complete list of professional tree services offered by Bartlett.
| | | |
| --- | --- | --- |
| 1 Metropolitan Court, Gaithersburg, MD 20878 | | |

Tree & shrub care services

General Tree Work:

Plant Health Care:

Do trees stress?

When nature presents variations from an extended dry spell to heavy rainfall, this scenario can weaken trees and shrubs and make them more susceptible to storm damage and to secondary invaders, beetle and moth larvae (borers).For example, borers are attracted to odors emitted by a drought stressed woody plant and can easily enter through a wound or crack in the tree or shrub. They will bore tunnels through the bark which will damage the tree's cells and disrupt the normal flow of water and nutrients resulting in rapid decline and even death. Early detection is a tree's best defense against such invaders.

Over time and with proper care a tree that suffers moderate storm damage can be restored to a state of health and beauty. Having an arborist periodically inspect your property is a prudent maintenance tool. An arborist can tailor a comprehensive plant health care program for your property that includes the prevention of wood boring insects.

Proper pruning can be suggested that will bolster the formation of the strongest branches and branch attachments to reduce storm damage.

Pro-active tree & shrub care

Tree & Shrub Care info

Affiliations

Maryland Arborist
Association

Tree Care Industry
Association


International Society
of Arboriculture
Master Arboist
On Staff
Copyright © 2010-2018 Wood Acres Tree Specialists - All Rights Reserved