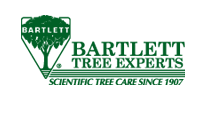 Wood Acres Tree Specialists is proud to be a division of Bartlett Tree Experts, and our staff now has the backing of an international tree-care company and tree research laboratory to help continue providing excellent tree service and shrub care in the Washington D.C. area. View a complete list of professional tree services offered by Bartlett.
| | | |
| --- | --- | --- |
| 1 Metropolitan Court, Gaithersburg, MD 20878 | | |
Tree & shrub care services

General Tree Work:

Plant Health Care:

What is the proper mulching technique?

Simply place a 2-4 inch layer on top of the soil extending out 4-6 feet from the base of the tree. Be sure to pull the mulch or wood chips away from the base of the tree about one inch. This will keep moles, voles and excess moisture from damaging the roots and the bark of the tree. The finished mulch ring will resemble a doughnut, not a pitchers mound or volcano.

Reapply mulch as needed to maintain a layer no greater than four inches deep. When mulch is applied incorrectly this can set the tree up for many problems in the future. For example, when mulch is too deep, tree roots will be encouraged to grow into the mulch pile and not in the soil where they belong. These roots can be damaged from direct contact of fertilizers, herbicides and seasonal drought.

Pro-active tree & shrub care

Tree & Shrub Care info

Affiliations

Maryland Arborist
Association

Tree Care Industry
Association


International Society
of Arboriculture
Master Arboist
On Staff
Copyright © 2010-2018 Wood Acres Tree Specialists - All Rights Reserved