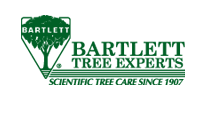 Wood Acres Tree Specialists is proud to be a division of Bartlett Tree Experts, and our staff now has the backing of an international tree-care company and tree research laboratory to help continue providing excellent tree service and shrub care in the Washington D.C. area. View a complete list of professional tree services offered by Bartlett.
| | | |
| --- | --- | --- |
| 1 Metropolitan Court, Gaithersburg, MD 20878 | | |

Tree & shrub care services

General Tree Work:

Plant Health Care:

Why mulch?

When applied correctly, mulching becomes a maintenance practice that will limit unnecessary and unwanted stresses to a tree or shrub.

As trees become stressed they become vulnerable to many pests and diseases lurking about in the environment, which are looking for a new home. The mulch layer will act as a protective barrier over the soil that will keep the soil moist by limiting evaporation. This barrier will also keep the soil at a more constant temperature, which encourages the growth of many beneficial soil microorganisms.

Tree roots require oxygen to carry out necessary gas exchange for growth, which is found in the many pore spaces created between varying sized soil particles. The mulch layer over the root zone will keep soil compaction from occurring and unwanted injury to the trees bark by keeping heavy traffic like mowers from coming too close. Over time this mulch will break down releasing small amounts of nutrients and organic matter back into the soil.

Pro-active tree & shrub care

Tree & Shrub Care info

Affiliations

Maryland Arborist
Association

Tree Care Industry
Association


International Society
of Arboriculture
Master Arboist
On Staff
Copyright © 2010-2018 Wood Acres Tree Specialists - All Rights Reserved