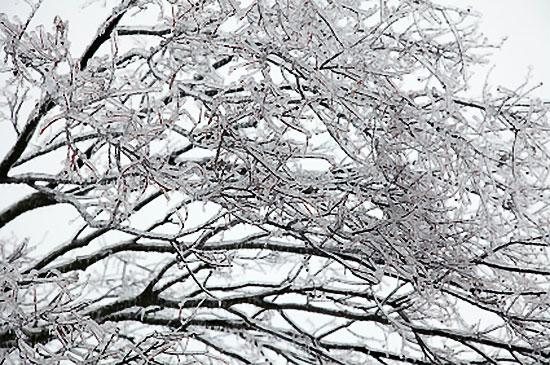 During the winter, Old Man Winter can take a toll on trees and shrubs. Winter's extreme storms can produce heavy ice and snow that break branches or topple your trees. Harsh winds and sun can dry out and bleach frozen plants. Wood Acres provides arborist services that can help safeguard your trees and bushes against winter's blast.
Winterburn Protection
Winter injury to evergreens is rarely caused by excessive cold, but rather by desiccation or complete loss of moisture. Although water loss is naturally low during winter, drying winds extract precious moisture at a time when roots are embedded in frozen soil thereby making it very difficult for water lost through the leaves to be replenished by root uptake. Leaves and needles become scorched at the tips and along outer margins. Buds and twigs will become brittle and snap when bent or loaded with precipitation. Often, the winterburn becomes more visible to the homeowner as Spring approaches and the damage is already done.
Wood Acres Tree Specialists provide winterburn protection with anti-desiccants for trees and bushes. Anti-Desiccants are?100% ORGANIC?substances that form a thin, transparent film on leaf surfaces. This creates a moisture barrier over the plant's surface, holding water in place or slowing its outward movement. This film naturally wears-off at the end of the winter season. This treatment is especially important during ?stress situations that occur with winter weather.
Snow and Ice
A frosted landscape is a lovely sight except when it gets so heavy it brings down branches or whole trees. Proper pruning, to eliminate multiple leaders and weak branch attachments, will reduce snow and ice damage. For trees with large wide-spreading leaders or large multi-stemmed trees, the main branches should be cabled together by a professional arborist.
?Cabling uses flexible cables or rigid rods reduce the chance of failure on defective structures during high winds, storms or from the weight of new growth. Cabling connects two limbs to each other by means of extra high strength steel which will provide equal support to both branches. Cables should be taut but not extremely tight. A cable installed too tightly will put pressure on the hardware and create tension in the V-fork. Periodic inspections will be necessary to take the slack out of sagging cable. While there are no established rules available on what the average life of a cable is, Wood Acres recommends that cables be checked every time work is performed on the tree.
Although plant winter injury ?can happen in particularly harsh Maryland/DC winters, appropriate plant selection, selecting the proper site, proper cultural practices, and preventive maintenance will significantly reduce or prevent severe injury or loss of landscape plants.
Even though plants respond differently to winter stress and each winter provides a different set of stressful conditions, plants possess a remarkable ability to withstand extremely severe winter conditions. For an ounce of prevention contact Wood Acres Tree Specialists' arborists for a consultation if you have concerns about vulnerable trees or shrubs in your yard getting damaged when old man Winter blows in.