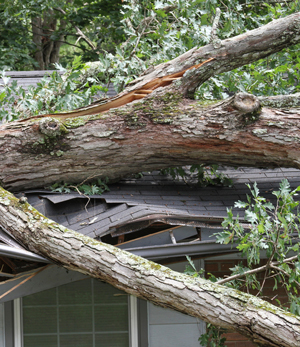 Montgomery County, Maryland is again cautioning homeowners about using unlicensed "tree experts" after the explosion of damage due to the recent derecho storm – for good reason: ??Storm devastation can strike twice if consumers are later victimized by unscrupulous contractors,? said OCP Director Eric Friedman. ?Unfortunately, unlicensed contractors frequently follow in the path of storm damage seeking to exploit the misfortune of residents.??
Homeowners might panic and be in a hurry to clean up the damage any way they can. This is not a wise choice because tree removal is the most dangerous and expensive of tree care services. For instance, the fatality rate among police officers and detectives is about 13.5 per 100,000. Tree workers rate does not go below 30 per 100,000. If something happens with an unlicensed or uninsured tree worker – you could be held liable.
Unlicensed "tree experts" are making themselves available and you could have a lot more problems in the end than a downed tree if you are impatient and don't check credentials.There are 30% more complaints filed against unlicensed tree experts.
Just because someone advertises in telephone directories for tree removal does not mean they are licensed and/or insured. A comparison report shows unlicensed tree experts equal 69.91% of online advertising. A sure red flag that there's a problem for consumers is incomplete contact information, such as a cell phone number or email address only or asking for more than 1/3 payment up front.
See report from ISA "Certain Characteristics of Unlicensed Tree Expert Companies Advertising in Maryland, U.S." by Michael F. Galvin
Since October 1, 2005, the law for tree services has been strengthened to protect the consumer. The law requires that prospective licensees meet the qualifications for licensure, including passage of an examination administered by the Maryland Department of Natural Reourses (MDDNR), and maintenance of insurance protection for as long as the license is in effect.
Wood Acres Tree Specialists is licensed and insured in MD – and more than meets the qualifications of a qualified tree service. We have a Board Certified Master Arborist (MA-4358B)?on staff which is the highest professional certification in arboriculture. We adhere to strict ISA standards in the care of trees and our workers' safety. We've been in business since 1983.
So keep our contact information handy. State law requires a written contract for any work completed so we will be happy to assess your trees and give you an estimate.?Keep in mind, the best way to minimize damage from storms is to keep your trees strong and healthy over time. Have them checked regularly by Wood Acres Tree Specialists and you'll be more assured the next time a severe storm is predicted. Be sure to ask us about our Plant Health Care (PHC) Program for ongoing tree care.