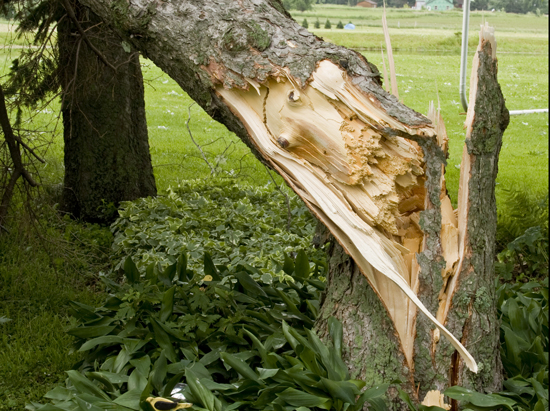 As summer approaches and strong storms with high winds are on the horizon it's a good idea to take a walk around your property and get an up-close look at your trees. If you see any cracks in the wood this is an indication that this tree could fall and damage your property. It's time to contact a professional arborist like Wood Acres Tree Specialists.
Cracks are a definite warning sign because they mean that your tree's structure has been compromised. Eventually, they can split and down comes your tree – on your fence, your power lines, your house -or even present a danger to your family.
Tree cracks in stems, branches and roots fall into different categories – all which can lead to sudden failure:
Horizontal cracks run across the grain of the wood and happen right before the tree comes down and are difficult to detect beforehand.
Vertical cracks run with the wood grain and may appear as:
Shear cracks: run through a stem and continue to elongate when the wind sways the tree. This finally results in the stem splitting in two and the wood shears apart.
Ribbed cracks: caused by a tree attempting to seal over a wound or damage from incorrect pruning. The tree may heal itself but extreme weather may cause movement or freezing and cause it to reopen. The tree compensates by creating thicker annual rings near the ribbed crack trying to stabilize itself. Over the years this creates a ribbed appearance. Ribbed cracks combined with other problems like decay can pose a severe failure risk. A Wood Acres' arborist can measure the shell thickness around the tree's circumference and determine how wide the crack is while checking for other issues.
Working with a certified arborist who is highly trained in the proper pruning techniques can keep some of these problems from developing in your tree in the first place. Support your trees' limbs with cabling and bracing. Avoid being shortsighted and having just anyone with a saw cut your trees. You may think you're saving money at the time but taking down a tree (& losing a valuable mature tree on your property) is very expensive and dangerous work – and could even be avoided with regular care from an arborist.
If you do come upon cracks in your Montgomery County or Washington DC trees, contact Wood Acres Tree Specialists right away for expert advice and care. If removal is the only recourse, you'll have peace of mind knowing that they are licensed and insured. You'll have peace of mind that this dangerous procedure is done with stringent safety and performance standards.
Wood Acres adheres to the standards presented in?ANSI A300 (American National Standards Institute) and is a member of TCIA (Tree Care Industry Association), Maryland Arborist Association, and the International Society of Arboriculture.