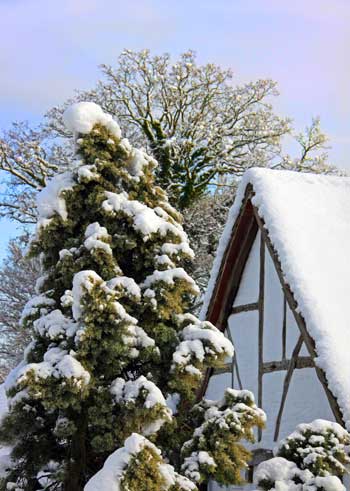 How do trees make it through the winter? Why don't they just freeze like other plants? Tree cells contain water in their cells full of dissolved substances. This protects them from freezing temperatures. Cells interiors are non-structural – one of the things water needs to start freezing. ?The trees cells freeze first as the temperature drops in winter. ?This draws water out of the cells, which became more pourous during the hardening process in the fall. ?This concentrates the dissolved substances in the cells protecting the tree from freezing even more. That's why trees don't freeze and burst (like your unprotected water pipes!).
Different trees can survive different temperature. Once they're hardened, red oaks can survive -40?F. Some trees like spruces, balsams, quaking aspen can make it to -100?F.
Coniferous trees retain their needles and can photosynthesize in winter and early spring. Some deciduous trees have chlorophyll in their bark – they can make sugar all year for food.
How To Winterproof ?Your Trees:
Plant only

native trees

to Maryland.
Water coniferous trees thoroughly in autumn.
Don't encourage late tender growth. Stop using nitrogen fertilizer near trees in late summer.
Protect young trees' bark with a wrapping to prevent freezing and thawing from damaging the bark.
Protect lower parts of trees with hardware cloth – deer and gnawing animals get hungry in a bitter winter when food is scarce.
Prevent winter "browning" or

winter burn

with a screen of burlap on the south and west sides to protect them from blustering, icy winds or have your

arborist

apply 100% organic anti-desiccants.
Resist the temptation to shake snow or ice from trees in winter. You could do more harm than good. Consider

cabling/bracing

for trees that need structural support.
Protect the tasty tops of young pines so

deer

don't dine on your tree structure. Deer also polish their antlers by thrashing trees which will expose the living part of the tree so those trees might need some extra barrier protection.
If you have a tree that's taking it hard this winter, seek the advice of a certified arborist from?Wood Acres Tree Specialists – serving the Montgomery County, Maryland and Washington DC area. With Wood Acres' professional Pro-Active winter tree care your trees can see another beautiful Spring without unnecessary damage.
?