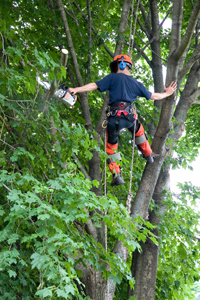 Wood Acres Tree Specialists recently received information from Wayne Knoll, City Forester of Rockville, MD. ?He was discussing the recent severe storms that had downed so many deciduous trees in his area of management and made an interesting observation:
According to Mr. Knoll,Rockville has approximately 28,000 street trees on 160 miles of street. His current budget allows for pruning all streets on about a 12-year cycle. During the February storm events, his office received approximately 200 reports of tree or limb failures. (Many of these failures were associated with evergreen trees, mostly white pine, in parks and on landscaped berms adjacent to major roadways. Since evergreens are more prone to failure due to excessive snowfall whether or not they have been recently pruned, he excluded these from his data). All trees listed below are deciduous street trees of various species and size. The majority of the failures were on maple species.
Of the 200+ tree related calls we received, 114 were for deciduous trees located in the City right-of-way along neighborhood streets. The vast majority of these were for partial tree failure with only a few whole tree failures.
Street trees that received routine maintenance pruning within the past five years incurred 19 of the known failures.
Street trees that have not received routine maintenance pruning for at least 6 years incurred 95 of the known failures.
Thus, 84% of the reported damage occurred on trees that have not received routine maintenance pruning for six or more years.
So, if you?would like to significantly reduce your property's tree failures during storm events, thus saving time, money and reducing liability ?talk to us about regular maintenance for your trees – and keep them beautiful longer.