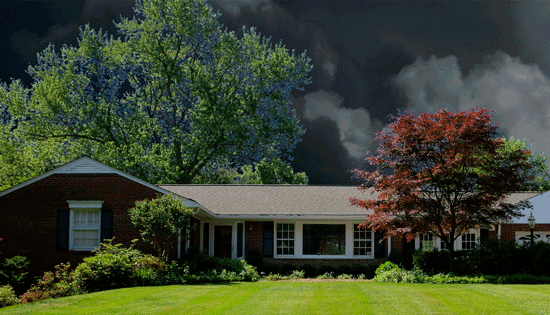 Wood Acres Tree Specialists would like to know: Are your trees ready for severe weather?
Hurricane season is officially from June 1 – November 30. September is the statistical peak of hurricane season. 2012 has had the most active season before July?1, Record-tying 8 named storms forming in August so there's a very good chance of strong activity this Fall.
Beat the storms and save your property (and what's in your wallet) by keeping up on a pruning schedule and keep an eye out for weakening?pests and diseases to avoid disastrous consequences from storms.
Trees are one of the most beneficial plantings you can add to your yard – and one of the lowest maintenance plants. They are the oldest living things on earth, provide welcome shade, seasonal beauty, and are a home for wildlife of all types. Occasional pruning and care is needed though.
When a tree grows in its natural habitat – like a forest – it has to compete for available light. In a residential landscape it frequently has more than adequate sunlight and can tend to grow quickly and develop multiple trunks which weakens the structure of a tree and can break off in storms. Regular yearly pruning and a tree health checkup is a good place to start. Pruning can keep your tree's branches in check and good health can strengthen it ?against the damaging effects of wind, rain, snow and ice.
Take care of young trees while they're maturing. Don't plant near wires, too close to a building, or in shallow soils or on steep banks. Prune dead or weakened limbs and excessive branches from crowns. This gives the tree an ideal shape and keeps it growing strong and balanced.
For valuable trees, hire a professional arborist, like Wood Acres, to further strengthen a tree by installing cabling or bracing on weak limbs and split crotches.
Plant wisely. Don't plant brittle species of trees in the first place. Some species to avoid include elm, willow, box elder, poplar Bradford Pears, and silver maple. The slower a tree grows the stronger the tree the denser the wood. Also,?trees that hold their leaves late in the fall are susceptible to early ice storms
Be careful not to harm trees during construction– when digging around trees, avoid damaging or cutting roots. They anchor the tree and send nutrients and water to the whole plant. Wood Acres Tree Specialists can consult with you and offer the best approach for building near an established tree.
Keep the tree healthy by watering, fertilizing, and protecting the soil from compaction. Wood Acres Tree Specialists provide many services that can alleviate tree problems: root collar correction, subsurface fertilization, and vertical mulching.
If you have tree concerns consult with a certified arborist at Wood Acres Tree Specialists today and get the facts about your trees. We have a Master Arborist on staff and have been expertly taking care of trees in Montgomery County Maryland and NW Washington DC neighborhoods like yours since 1983 so you can weather the inevitable storms up ahead.