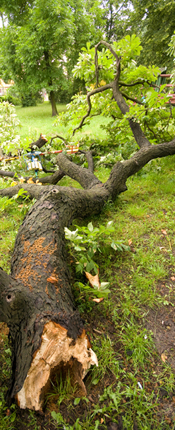 When you find downed tree limbs
You're taking a stroll around your yard and you notice a big tree limb in the the back yard that wasn't there a couple days ago. A look around the neighborhood tells the tale: the latest storm brought down several tree limbs of all sizes. Why do some tree limbs just bend with the wind and weather when others break? What about the big limb overhanging your house right now?
Weak Branch Unions
Branch unions are categorized as either strong or weak. Strong branch unions have upturned branch bark ridges at branch junctions. Annual rings of wood from the branch grow together with annual rings of wood from the stem, creating a sound, strong union all the way into the center of the tree.
A weak branch union occurs when a branch and stem (or two or more co-dominant stems) grow so closely together that bark grows between them, inside the tree. The term for bark growing inside the tree is ?included bark.? The more bark included in the tree, the weaker the union and greater chance that it will fail.
In storm damage surveys conducted by the University of Minnesota?s Forest Resources Department, 21 percent of all landscape trees that failed in windstorms failed at weak branch unions of co-dominant stems. Some species are susceptible to having included bark: European mountain ash, green ash, hackberry, boxelder, willow, red maple, silver maple, Amur maple, cherry and littleleaf linden.
Epicormic Branches
Epicormic branches (also called sucker branches or water sprouts) are formed as a result of bad pruning, injury or environmental stress. They are shallowly attached instead of attached to the center of the stem. Epicormic branches are new branches that replaced injured, pruned or declining branches. You can see epicormic branches formed on the stems and branches of topped trees. Sprouting is common with borer damage. Look for D-shaped holes higher up on the tree. They do not appear along the lower trunk until the tree is nearly dead.When old, large and heavy epicormic branches are growing on decaying stems or branches, the epicormics are very likely to fail.
Weak unions that are also cracked, cankered or decayed are even likely to fail – more limbs in the yard.
Safety First
For safety's sake, don't try to inspect that lofty limb yourself. The tree business is very dangerous and experts, like Wood Acres Tree Specialists, ?should be consulted. We employ stringent safety and performance standards when analyzing your trees' structure and taking steps to improving their strength and reduce hazard.